Two Girls in a Wood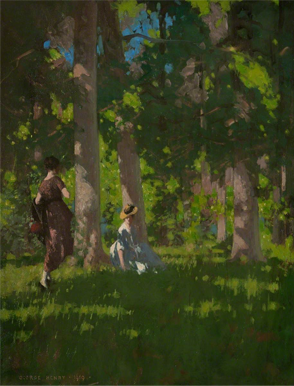 by George Henry (1858-1943)
One of our most beloved art works in the collection of South Lanarkshire Council, this work deserves some study. George Henry was an Ayrshire born Scottish artist active at the end of the 19th century and into the 20th. This was a turbulent period in European art and through this time great changes took place in how artists depicted the world around them.
Henry was a very good portrait painter and established a lucrative business in London, but he is best regarded as one of the group of artists known as the Glasgow Boys who were influenced by realism and promoted the idea of being true to nature. Henry and E. A. Hornel visited Japan together in 1884 and came away highly impressed with Japanese design and decorative art. This was to prove highly important in their work, showing in their decorative colouring and shading. In this painting, Two Girls in a Wood, Henry departs from this to an extent but gives us a work that is all light and shade. Throughout his beautiful paintings of landscapes with figures of this time Henry produces shadows in a kind of flat brush, block technique.
When you think of the 1920s and 30s a modernistic flat design becomes very fashionable in graphic output and advertising. Maybe George Henry's superb play of light on this scene is a forerunner of that. He doesn't concern himself too much with line and form but shows us the whole flickering scene of the green wood in summer light and there is a delightful anonymity in the figures he includes. Against a painting of landscape in the more traditional style of the time, Henry's painting looks naïve and simply composed. It is, however, a fine example from a group of artists in Scotland whose ideology was so important in the development of 20th century painting.
View Online Collection information on this painting:
Share this page