A Lesson in Charity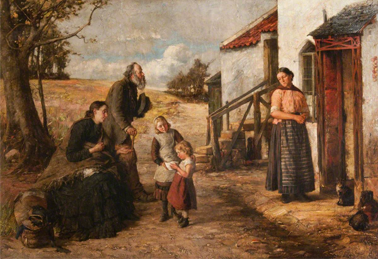 by Thomas Byron Lyle c 1880
Painted around 1880, this work by Thomas Byron Lyle is an example of Victorian moralistic painting. The Victorian age was a time of incredible industrial progress and of great wealth and prosperity. It also was a time when the middle classes began to be socially aware. Many campaigners such as Charles Dickens, John Stuart Mill and Thomas Barnardo tried to relieve poverty. Remember, in those days there was no state pension, no health service and if you were unable to work there was no income except what you could beg or what the parish donations may supply. For older people without a family to support them life was extremely harsh.
In this painting we see a couple stopping outside the door of a cottage in the country. The two are not as old as they look at first, the man has a grey beard and their dog shows the grey muzzle of age. There are two young girls coming forward and the elder guides her sister towards the couple with what looks like a bowl of food. Their mother stands in the doorway. Going by the title, it is a scene showing how charity to others is important and how, even though the family's home is poor and shabby, the mother shows pride in her appearance and the girls are well looked after.
The Victorian stress on respectability above all else and the new ideas of responsibility to the poor are shown in a very humble but poignant scene. Of course, this resonates with us in these times when community responsibility and caring is so important.
View Online Collection information on this painting:
Share this page