Activage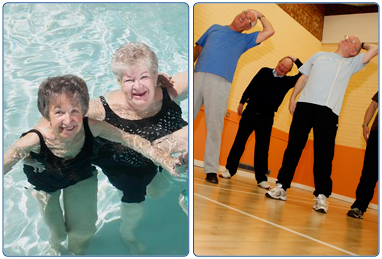 Activage is a membership specifically for South Lanarkshire residents who are aged 60+ and allows members access to our indoor leisure facilities including swimming and health suites, East Kilbride Ice Rink, cultural and libraries activities, golf courses and so much more.
The cost of this membership for residents aged 60+ is £59.70 for the full year. This can be made as a one off payment or in two separate payments of £29.85 (once first payment is made customers have up to 3 months to make the second payment).
Being physically active is good for our mind and body, but also gets us out of the house, into the community, socialising with others and generally making the most of life. To be as healthy as possible it is recommended that each week older adults should have 150 minutes of moderate activity.
Being active on a regular basis can:
Lower the risk of developing health problems and help manage and reduce progression of existing conditions such as back/chronic pain, osteoporosis and mental ill-health.
Aid balance and muscle strength to reduce the risk of falls.
Improve confidence and overall quality of life.
Activage members get access to:
19 fitness gyms
9 health suites
Racquet sports
Libraries activities
Cultural activities
Golf courses* (*conditions apply)
Download the South Lanarkshire Leisure and Culture Activage timetable.
In addition there are a number of bespoke services and classes which are specifically designed for older adults:
Active Mondays: John Wright Sports Centre, Tel:01355 237731
Active Tuesdays: Blantyre Leisure Centre, Tel: 01698 727800; *Alistair McCoist Complex, Tel: 01355 265696
Active Wednesdays: Larkhall Leisure Centre, Tel: 01698 881742
Culture Wednesdays: John Wright Sports Centre, Tel: 01355 237731
Active Thursdays: Jock Stein Centre, Tel: 01698 828488; John Wright Sports Centre, Tel:01355 237731
Active Fridays: Carluke Leisure Centre, Tel: 01555 751384; Low Parks Museum, Tel: 01698 452382
Active Saturdays: *Uddingston Sports Centre, Tel: 01698 805055
*Alistair McCoist centre and Uddingston Sports Centre sessions are run by volunteers, otherwise qualified staff oversee the sessions to ensure participants receive quality instruction in a fun and friendly environment.
Main benefits
'Active Days' are exciting inclusive sessions allowing people to try a variety of different sports, activities and services within a centre, with a chance of a cup of tea/coffee and chat as well.

Culture mornings are a great way to try a number of cultural activities, from charcoal drawing, singing or drumming. Who knows, you could end up forming your own samba band!

Club Circuit and Club Movers classes are fun and friendly circuit based fitness classes, led by a qualified health and fitness professional with the knowledge and experience to adapt levels and exercises to suit your needs. These classes are run in partnership with NHS Lanarkshire.

Activage Music / Arts Festival offers opportunities to access free music recitals, tea dances, afternoon performances and much more. If you are interested in the arts, we are confident that you'll find something in this unique festival that appeals to you.

Walking Football is designed to help older adults maintain an active lifestyle at an easy pace.

Aquafit classes help improve cardiovascular fitness and muscle tone with reduced risk of muscle or joint injury thanks to buoyancy in the water.

Fun pool activities mean you can be active while enjoying time with your grandchildren.

One free course of swimming lessons will help to build your confidence in the water and provide another path to fitness.

Free personalised fitness programme, tailored to suit your needs, will help you reach your fitness goals.
Activities are also available as a pay-as-you-go option.
Additional benefits
Sign up at one of our five cultural venues and benefit from a one off offer of £20 off the price of a performance of your choice (subject to availability).

Six free rounds of golf per year at any of our six golf courses, Monday-Thursday.

Free one hour introductory session on how to research your family history.

Access to library digital sessions including how to access useful aps, ipad basics and even practical 3D printing workshops.

Buy one coffee and get one free during specified times only at:
East Kilbride Arts Centre and Rutherglen Town Hall, Mon-Fri 9am-4pm
South Lanarkshire Lifestyles Lanark, Carluke Leisure Centre and Hamilton Water Palace Mon-Fri 2pm-5pm
Chatelherault Country Park 3pm-4:30pm, Low Parks Museum 1pm-2:30pm, Mon-Fri plus receive 20% off at retail shops
Seasonal offers from April to September only
Free pay to play with bowls hire at HPSG, Brancumhall and Strathaven Park, Tue-Thu 11am onwards (max 2 hours play per visit)

Free tennis court hire HPSG and Strathaven Park (anytime – max 1 hour play)

Free putting at Strathaven Park, 11am onwards Free pitch and putt at Brancumhall Golf Development Centre, 12 noon onwards
All this for around £1 per week!
To find out more about any of these sessions, or to take out your Activage membership, simply contact your local SLLC leisure centre or call SLLC HQ on 01698 476262.