Clubs and communities development programme 2023-24
Published: Tuesday, 14 November 2023

Clubs and communities development programme 2023-24
As part of our commitment to engaging and supporting clubs and community organisations we have produced a development programme. This includes the series of club development workshops and training opportunities listed below. Please see also our club development survey and opportunities to connect with local hub networks.
Club engagement and development
Workshop 1
Friday 1 December 2023
6:00pm - 9:00pm
£10.00
Auditorium, Chatelherault Country Park
with Dr Andrew Jenkin, SportScotland and local officers for Hamilton/Clydesdale
Workshop 2
Friday 2 February 2024
6:00pm - 9:00pm
£10.00
East Kilbride Arts Centre
with Dr Andrew Jenkin, sportscotland and local officers for East Kilbride/Camglen
Autism awareness
Sunday 3 March 2024
10:00am - 2:30pm
Cambuslang Rugby Club
Tanya Tenant Consultancy
Reach Autism Lanarkshire
First aid (SYFA approved)
Sunday 25 February 2024
10:00am - 4:30pm
£20.00 (50% CSH concession)
Carluke Leisure Centre,
A.D training and Development
Child wellbeing and protection in sport
Tuesday 21 November
6:30pm-9:30pm
£26.55
Hamilton Palace Sports Grounds (Bowling Pavillion)
UWS Strength and Conditioning and Disability Inclusion Workshop
Dates coming Spring 2024.
For more information contact Gavin.Maclure@southlanarkshireleisure.co.uk
All courses can be booked by calling 01698 476262, weekdays 9:00am-4:15pm. Participants must by 16yrs and above.
If you would like assistance in organising a course and coordinating with other coaches in South Lanarkshire you can contact Gavin.Maclure@southlanarkshireleisure.co.uk.
Clubs and Communities Development Survey
Join your local hub network.
Completing this survey allows your club to connect with South Lanarkshire Leisure and Culture and sportscotland Community Sports Hub programme. It will allow local officers to understand the needs of clubs and community organisations and help with club engagement, development and training.
Primarily the survey is an opt in to engage with SLLC and other local clubs and partners and commit to working with us and partners on collaborative programmes which benefit the community.
Please complete the survey and tell us more about how we can work together. Scan the QR code below to access the survey.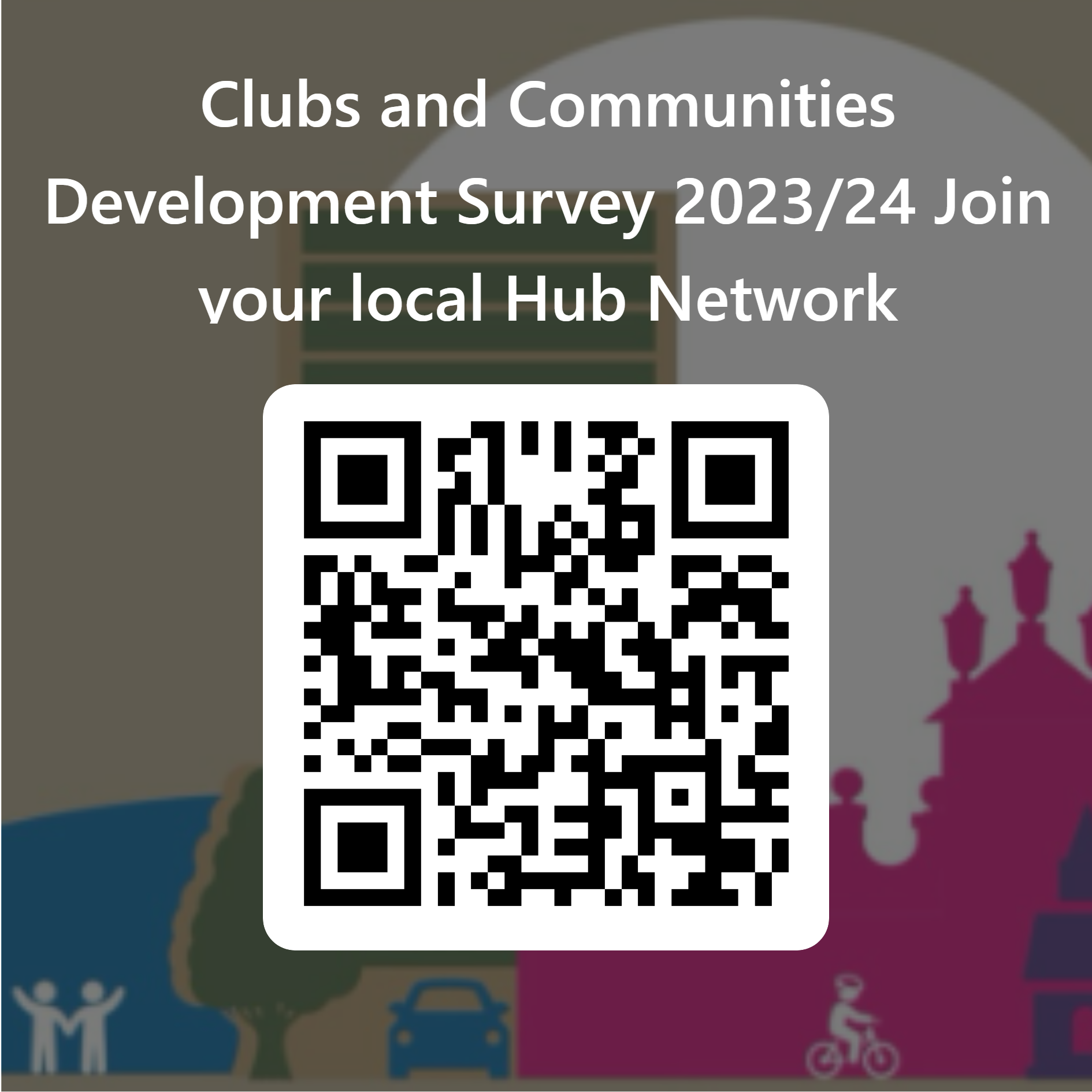 Share this page