Calderglen zoo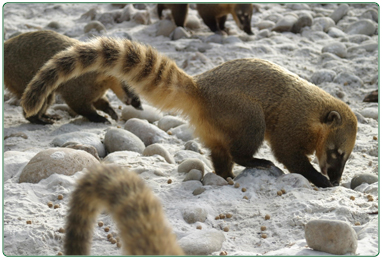 ---
Calderglen Zoo opened in 1982 and is home to over 50 different species, some of which are critically endangered. Being about an acre in size, the zoo specialises in small creatures and amongst the ornamental gardens and Conservatory you'll discover meerkats, families of monkeys, noisy Kookaburras, cheeky Ring-tailed Coati, and Burrowing Owls. Come and meet the smallest tortoise and the rarest bird and find out how Calderglen is helping to conserve these endangered animals and about our work with the British and Irish Associations of Zoos and Aquaria (BIAZA).
Look out for our notice board for details of afternoon feeding times when you have the chance to talk to the keepers about some of the animals.
Calderglen zoo talk and tour:
Here at Calderglen zoo we offer two different animal tours: an Animal Encounter or a Feeding Tour.
Animal Encounter: involves the group getting to meet some animals such as snakes and lizards up close. The animal keeper will tell the group all about the animals. This is an educational session available for nursery groups, school groups, college groups, university groups and community groups such as scouts and brownies. Duration 40-60 min.
Feeding Tour: involves the group getting to watch animals such as the coatis, meerkats, pigs, guinea pigs and rabbits being fed. The animal keeper feeding them will also tell the group all about the animals. The feeding tour takes place in the outside zoo area so groups should wear weather appropriate clothing. Duration 30-40 min.
Costs:
All talks and tours need to be booked in advance and have a one off payment which includes entry fees for all adults to the Conservatory and Zoo. Maximum group size for all talks and tours is 25. Cost: £30.90
For further information and booking availability:
Please email us at calderglencountrypark@southlanarkshireleisure.co.uk giving details of your group, including contact person, address, phone number and email address. Please also include the number of children and number of adults and any additional needs or requirements. All talks and tours are suitable for people with disabilities. Alternatively you can telephone us on 01355 236644.
Download the Country Parks Events Guide for information on activities happening throughout the year.