Visitor Centre, Gift Shop and Café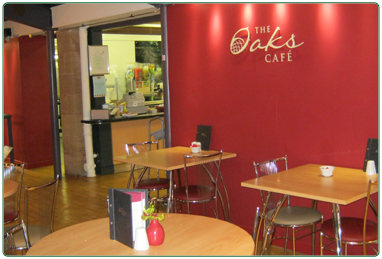 ---
From the main Reception area you will find an interactive heritage exhibition which depicts the past cultures, industries and wildlife of the local area, see the badger's home, or do some fossil brass rubbings.
The Oaks Café
The stylish newly refurbished Oaks Café has an internal seating capacity area of 110 with a further 40 seats within the external courtyard area.
Try our delicious range of sandwiches, toasties, paninis, baguettes, bagels, ciabattas and focaccias; all freshly prepared in the Oaks Café every morning and pre-packed for your convenience. Why not treat yourself to our amazing range of home baked cake, fresh cream meringues, patisseries, muffins, and not forgetting our ever popular scones with jam!
We have options for the little ones too! Our children's picnic bags come with your choice of ham, cheese or tuna sandwich, crisps, raisins, a fruit bag and a carton of juice and the bag itself is printed with fun activities and comes with crayons to keep the kids entertained during lunch!
Please see our menu for more information.
The Gift Shop
The Gift Shop offers goods ranging from contemporary designer jewellery, scarves, handbags and unique gifts to locally produced sweets and pocket money toys. It's the perfect place to pick up a unique gift or even to treat yourself!
The Hunting Lodge
Commissioned in 1734 by James, 5th Duke of Hamilton, the William Adam designed Hunting Lodge was built as a kennel for the Duke's hounds and horses. In 1987 the lodge was restored to its former glory and reopened as a visitor attraction.
The West Wing of the lodge contains the Banqueting room, Duke's room and Duchess Room, which are all open for public viewing.
The Cadzow Gallery is home to a programme of arts and photographic exhibitions throughout the year. Details are highlighted within our events guide.
The gardens surrounding the hunting lodge contain an original design Parterre garden, traditional bowling green, and herbaceous border which were created by the Duke's gardener John Hossack in 1740.
The plants within this 18th century garden were not only grown for their beauty and fragrance but also for their medicinal and culinary virtues.
Please contact us for any further information.