Football - Grass pitches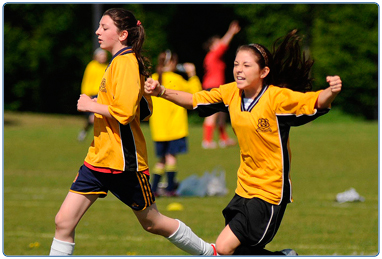 ---
For more serious players who may play to a league structure we have a large number of grass football pitches available to hire. Our pitches can accommodate 11-a-side games or 7-a-side games.
Block bookings are available and are considered on an annual basis. They traditionally operate between late August to the end of May in line with the football season.
Our synthetic pitches are available all year round with our grass football season running from August until May.
We offer block bookings as well as casual bookings.
How to book a grass football pitch
To book a Grass pitch or for more information call 01698 424101.
Download the Grass Pitch Block Booking Pack, read the Sports Pitch Block Booking Procedures and Conditions, and complete and submit the online form from the link at the end of the Procedures and Conditions. Supporting documentation listed on the online form will have to be submitted to Hamilton Palace Sports Ground to complete the application.
Pitches in the Cambuslang / Rutherglen area

| Facility | Area | Elevens | Nines | Sevens | Changing | Pitch grade |
| --- | --- | --- | --- | --- | --- | --- |
| Peter Brownlie | Cambuslang | 1 | | | Yes | B |
| Cambuslang Park | Cambuslang | 3 | | | No | C |
| Welfare | Cambuslang | 1 | | | No | C |
| Halfway | Cambuslang | 1 | | | No | C |
| Stonelaw | Rutherglen | 1 | | | Yes | B |
Pitches in the Clydesdale area

| Facility | Area | Elevens | Nines | Sevens | Changing | Pitch grade |
| --- | --- | --- | --- | --- | --- | --- |
| Auchenheath | Auchenheath | 1 | | | Yes | B |
| Bankhead | Lesmahagow | | | 2 | No | C |
| Birkenshaw | Larkhall | 1 | | | Yes | B |
| Carnwath | Carnwath | 1 | | | Yes | B |
| Coalburn | Coalburn | 2 | | | Yes | B |
| Crabtree | Douglas | 2 | | | Yes | B |
| Craighead | Lesmahagow | 1 | | | Yes | A |
| Crawfordyke | Carluke | 2 | | 1 | Yes | B |
| Forth | Forth | 1 | | 2 | Yes | B |
| Glebe | Lesmahagow | 1 | | 2 | Yes | B |
| Kildare | Lanark | 1 | | | Yes | B |
| Lanark Racecourse | Lanark | 3 | 1 | 2 | Yes | B |
| Law | Law | 1 | | 2 | Yes | B |
| Netherburn | Larkhall | 1 | | | Yes | B |
| Monteith | Carstairs | 2 | | | Yes | B |
| Moorpark | Carluke | 2 | | 1 | Yes | B |
| Robert Ferguson | Larkhall | 1 | | | Yes | B |
| Tileworks | Stonehouse | 2 | | 1 | Yes | A |
Pitches in East Kilbride and Strathaven area

| Facility | Area | Elevens | Nines | Sevens | Changing | Pitch grade |
| --- | --- | --- | --- | --- | --- | --- |
| Ballerup | E Kilbride | 5 | | | Yes | A |
| Brancumhall | E Kilbride | 5 | 1 | 2 | Yes | A |
| Dunedin | E Kilbride | 1 | | | Yes | A |
| John Hastie Park | Strathaven | 2 | | | Yes | A |
| Kirklandpark | Strathaven | | 1 | | Yes | A |
| Murray | E Kilbride | 2 | | | Yes | A |
Pitches in the Hamilton area

| Facility | Area | Elevens | Nines | Sevens | Changing | Pitch grade |
| --- | --- | --- | --- | --- | --- | --- |
| Bent | Hamilton | | 1 | 2 | Yes | A |
| Ferniegair | Hamilton | | 1 | | Yes | B |
| Hamilton Palace Sports Grounds | Hamilton | 6 | | 2 | Yes | A |
| Meikle Earnock | Hamilton | 1 | | | Yes | B |
| Porterswell | Uddingston | 1 | | | | A |
| Priory | Blantyre | 4 | 1 | | Yes | A |
| Stonefield | Blantyre | 2 | | | Yes | A |
| Woodean | Bothwell | 1 | | | Yes | B |