Curling
---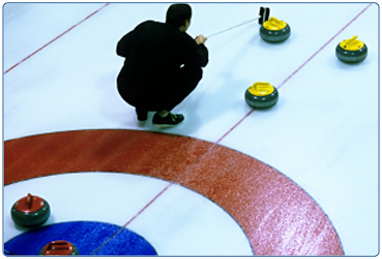 East Kilbride Ice rink has five curling sheets available, all lined to RCCC specifications and with points markings.
The Rink is now wheelchair accessible following its recent refurbishment, which includes new accessible toilet facilities.
Curling Sessions
Curling: Is available from the beginning of October through to the end of March every Monday, Tuesday and Wednesday. Block bookings as well as individual bookings are welcome.
After School Curling: On a Monday between 4pm-6pm for anyone under the age of 16 years to come and have a go at curling. Ask at reception for further details.
Come and Try: If you have never tried curling before, or you feel you could do with some extra practice, come along every Monday between 6:30pm-8:00pm and get advice / tips from a curling development officer.
Come and Try Wheelchair and Stick Curling: For those who find the slide delivery usually associated with curling uncomfortable, why not come along on a Tuesday between 2:30pm and 4:00pm where coaches will show you how to fully participate in a game using a cue. Wheelchair users and able bodied are equally welcome at these sessions. We already have a number of players who use a cue and compete with our local clubs at the ice rink and further afield in National competitions.
Practice Curling Ice: Available to book Monday to Wednesday for up to a maximum of three people per sheet during the curling season.
Download the East Kilbride Ice Rink programme and price list.
For more information, please contact the Ice Rink on 01355 223498