Ice skating
---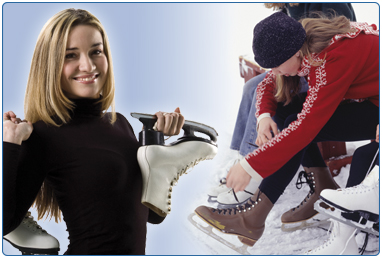 East Kilbride Ice Rink provides extensive recreational ice skating sessions and learn to skate programmes. We have dedicated sessions at the weekend for families and for the teenagers we offer Friday and Saturday night discos which are hosted by our resident DJ. Our Thursday and Friday late morning general skate sessions prove very popular with our older generation skaters so, no matter what your age, we have something for you.
Skating Session Information
General Skating: A session for all levels and abilities. Various sessions available Thursday to Sunday all year round and every day between April and September and all School holidays.
Ice discos: Every Friday and Saturday night. Skate, dance and chill with your friends whilst the latest tunes are played by our Resident and special guest DJs. These sessions are open to all ages and abilities. Please note - penguin hire is not available during this session.
Family skating: Enjoy a nice day out with the family with these fantastic ice skating sessions, suitable for all ages, on a Saturday and Sunday. These sessions attract a wide variety of skaters with the majority being beginners and novice skaters. If you have any young children new to skating, why not hire one of our penguins.
Equipment Hire
Skate Hire: Skate hire is available for £2. We stock all sizes from junior size 6 through to adult size 13. Both hockey and figure skate boots available in all adult sizes.
Penguin hire: Our friendly penguins are ideal for young children new to skating and a perfect first friend on the ice! Specially designed to support children learning to skate, this is the ideal way to build their confidence and get them used to skating on ice. The penguins are suitable for children under 1.2m in height.
Skate Sharpening: If you have your own skates we can sharpen them for you for £5.65.
Lockers: Are available for your belongings. They are operated with a 20p coin which is non-refundable.
Ice Skating Lessons
Learn to skate: Group ice skating lessons for adults and children of all abilities with qualified UKLTS instructors.
Thursday: 6:15pm, 6:45pm (start time will depend on ability)
Sunday: 5:30pm, 6:00pm, 6:30pm, 7:00pm, 7:30pm (start time will depend on ability)
Cost: £36.25 (Block of five 30min group sessions and ncludes skate hire)
Ask at reception or call 01355 223498 for further information.
Snow babies: A group coached session for under 6's that introduces children to the fun that can be had on ice with toys and games. A parent/carer must remain in attendance but are not required on the ice.
Friday 10:00am, 10:30am, 1:30pm and 2:00pm
Cost: £27.25 (Block of five 30min sessions and includes skate hire)
Ask at reception or call: 01355 223498 for further information.
Learn to Skate One to One: Private lessons can be arranged and are available on certain days/times.
Ask at reception or call 01355 223498 for further information.
Figure Skating Clubs: The ice rink plays host to two very successful figure skating clubs. For further details please contact reception.
Download the East Kilbride Ice Rink programme and price list.
For more information, please contact the Ice Rink on 01355 223498