Lanarkshire Yeomanry Tunic and Helmet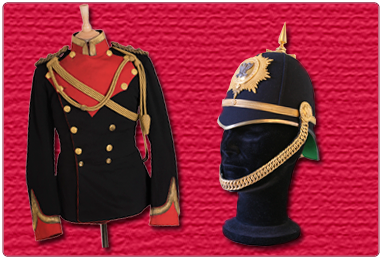 This tunic and helmet are part of the uniform worn by an officer of the Lanarkshire Yeomanry. Traditionally, yeomanry regiments were a type of volunteer cavalry raised in the 1790s, while Britain was at war with Revolutionary France. The first troops of Lanarkshire Yeomanry were raised in 1819 by Norman Lockhart of Lee.
The tunic probably dates from the late 19th or early 20th century. The name 'Cranstoun' is written in ink on the inner label. The Cranstoun family had a long association with the Lanarkshire Yeomanry, and two officers of that name were still serving with the regiment by the time of the First World War. The two stars, or pips, on the epaulettes show the wearer held the rank of Lieutenant. Given the rank and probable date of the tunic, it most likely belonged to George H. H. Cranston.
The helmet is of a style worn by officers of the Lanarkshire Yeomanry from the early 1880s to early 1900s. It features the double-headed eagle from the coat of arms of the Royal Burgh of Lanark.
These items will be on display at Lanark Library until October 2018.