Hugh McKirdy Artwork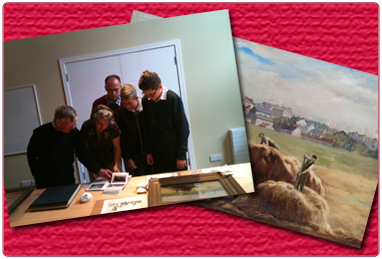 Once upon a time, the Henderson family of Merseyside embarked upon a quest…
Their ancestor, an engraver and painter called Hugh McKirdy, captured rural and town scenes of bygone times in Rutherglen and further afield. Although not a famous artist, one of his paintings hung on their wall at home.
One Google search later and they were astonished to find another of Hugh's paintings, through the online collection on South Lanarkshire Leisure and Culture's website!
So what was Hugh's painting doing within a local authority museum collection? Yet more questions were raised and the family decided a fact-finding mission to the North would be necessary. And so their journey began…
On September 1st, the family arranged to visit Low Parks Museum and were greatly surprised to be shown even more examples of Hugh's artwork. They also met a distant relation, McKirdy's grandson, who had also been in touch with the museum. With him, he brought a large collection of prints, artworks and other items of interest to the family and the museum.
Without our online collection, the Henderson family would never have known about Hugh McKirdy's other painting. The information gleaned from the visit allowed the collections team to enrich their records on Hugh McKirdy, his life, his work and his art.
Digitising the South Lanarkshire Museum Collection makes it accessible, without ever having to set out on a quest!
So what other treasures hide within our online collection, awaiting your discovery?
Have you searched our online collection? www.slleisureandculture.co.uk/info/206/online_collection