Fitness membership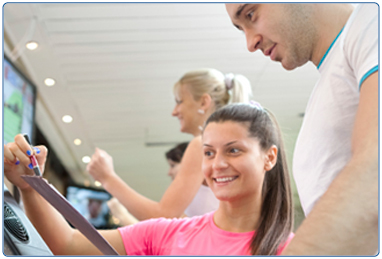 South Lanarkshire Leisure and Culture offers various membership packages. These allow you to access a range of facilities, according to your preferences, for a great value monthly Direct Debit payment. Further reductions may apply if you qualify for a concession rate. This includes if you are a student, at school, or in receipt of benefits.
You can join online now, ask at your local leisure centre or email SLLC enquiries for further information if you are interested in joining our fitness family. We offer facility tours with a dedicated member of staff. They will show you around and give you the information you are looking for. If that isn't enough we also offer free passes to allow you to give us a try with no obligation. Simply register for our 1 Day Pass – Leisure Offers.
Health and Fitness membership (16-59 years)
Our health and fitness membership is only £25 per month (student and concession rate at £18.75 per month) and £45 per month for couples.
Our 'all-inclusive' Fitness membership entitles you to:
Unlimited use of gyms, pools, racquet sports* and health suites
The Perfect Fit where we personalise your fitness journey to suit you and your goals
Unlimited free access to our highly qualified staff for advice and assistance
Access to our full range of fitness classes (indoor and outdoor)
Online classes
* Racquet sport / court hire is included in the Health and Fitness membership. However, charges apply when playing with non-members. For example for one member plus one non-member the court hire will be half price.
Health and fitness junior membership (12-15 yrs)
For only £12.50 per month (£9.40 concession rate) this membership offers access to our gyms, pools, fitness classes, racquet sports and running tracks. Juniors require an appointment with our gym staff before attending the gym, please email SLLC enquiries for further details.
Health and fitness junior membership (4-11 yrs)
This membership offers access to all nine swimming pools, racquet sports including badminton and running tracks. The monthly cost for this membership is £12.50 (£9.40 concession rate).
Are you a student or on benefits and looking for a discount on fitness memberships?
If you are a student or you are in receipt of certain allowances or benefits you may be able to apply for a concession discount on your monthly fees. Our membership is an amazing £18.75 per month.
Over 60?
Get all the benefits of the above for £80.25 per year by signing up to our Activage membership. Let us help you keep up with your grandkids!
Online membership
Get access to hundreds of fitness classes at the touch of a button with SL Fitness Online. Our online fitness product is available at a monthly cost of £10.70. If you are already a member with us, this is part of your health and fitness membership. The catalogue of classes is extensive regardless of your current fitness level, there is something to suit everyone.
Share this page