Hamilton Mausoleum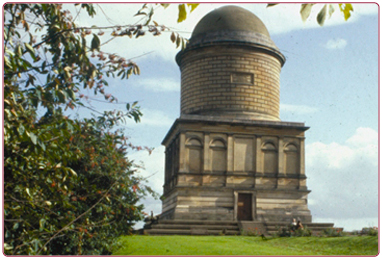 Hamilton Mausoleum was one of the finest private tombs in the country, and is now one of the town's most famous buildings.
It was built as a tomb and monument to Alexander, 10th Duke of Hamilton, nicknamed 'El Magnifico', but was incomplete at the time of his death in 1852.
The chapel has a massive dome, over 36 metres high, magnificent bronze doors, and a stunning floor made up of different marbles from around the world. However, one of the first things you will probably notice is its amazing 15-second echo, one of the longest in the world!!
Two huge lion sculptures overlook the entrance to the crypt below, where you can still see the niches for the bodies of the members of the Hamilton family.
When conditions permit, we offer entertaining and very informative tours of Hamilton Mausoleum.
Please contact Low Parks Museum reception on 01698 452382 for details.
Share this page