Netball development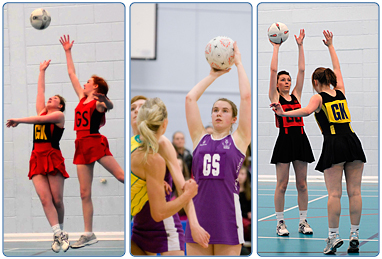 What is Netball?
Netball is a fast skilful team game based on running, jumping, throwing and catching. Teams may consist of up to 12 players but only seven players may take the court at one time. Each player has a playing position determined by the areas of the court where they may move.
The playing positions are:
GS, GA, WA, C, WD, GD, and GK.
What is Fun5z Netball?
Fun5z is the small-sided game recommended by Netball Scotland for players aged 9-12 (P5, 6 and 7). However, children age 7 - 9 (P3 and 4) should work towards playing Fun 5z. Children age 5 - 7 (P1 and 2) will develop understanding of fundamental movements and skills preparing for Fun 5z.
Fun5z is played between two teams of 7 or 8 players with only 5 players on the court at any one time. The game builds on fundamentals of the sport. It focuses on greater participation, appropriate skill development and, above all, enjoyment and FUN.
The overall Fun5z programme provides a structured pathway for development for players aged 5 and onwards. There is no limit to the use of the game. Fun5z provides an opportunity for individuals to become part of a team. The children also can enjoy the feeling of support and co-operation that this engenders.
World Youth Netball Championships - Promotional Video
Why Netball?
Netball as an organised sport is played in various forms in most countries. It is a game of precision, timing and balance, agility and ball skill. Trust, communication, and team work play an important role in the game. This can be used to encourage the development of social skills. Interest in netball ranges from the social game to the highly competitive.
The nature of the game encourages the development of all fundamental skills including:
running, jumping, landing, balance and agility
co-ordination skills, including hand-eye, judgment of speed, distance and space, precision and accuracy
cognitive skills including decision making, lateral thinking and problem solving
co-operation and communication between individuals
social interaction in groups
acceptance and understanding of individual difference
applicable to a variety of life and sports contexts
Many aspects of netball are fundamental to the development of children's movement. Therefore it is regarded as a building block for movement development as well as an opportunity to pursue elite performance.
Links for -
Schools
Clubs
Coach education
Development Squads
NGB
Share this page