Rugby development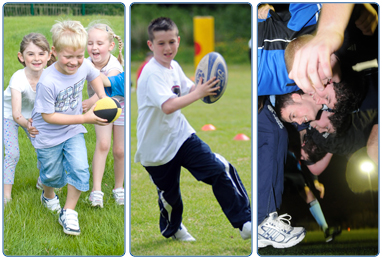 South Lanarkshire Leisure and Culture co-ordinates the Rugby Union development programme. The programme aims to promote and develop rugby throughout the region. To achieve this aim, the programme is involved in school rugby, club rugby, pathway/development squads as well as coach and referee education.
Primary and secondary school rugby
The primary 'Touch Rugby' programme is ongoing, with schools throughout the authority being targeted.
Festivals are run as a culmination to all 'Touch Rugby' programmes.
The secondary 'Full Contact' programme has started, offering curriculum- based sessions to encourage after school clubs and fixtures.
S1/2, S3/4 and U18 festivals are operated throughout the year to encourage participation.
School trials take place in S1/2/3. This is the start of the selection process for the Pathway and local development squads (see below).
Schools Cup competitions are run for S1/2 and S3/4.
Club Rugby
There are eight clubs within the South Lanarkshire area:
Biggar RFC and Hamilton RFC are supported by Club Development Officers (CDOs) with Cambuslang RFC and East Kilbride RFC recruiting Modern Apprentices for season 2011/12. Contact details for CDOs are listed below.
Local Development Squads
Local Development Squad trials are held, with all clubs/schools being asked to forward players at S1/2/3 levels. Finalised squads will then be selected to represent Lanarkshire in fixtures against various other Local Authority areas.
SRU Skill Camps will be held each year at U14 and U15 age groups where players will be assessed and given feedback on areas of strength and weakness. Players will then be selected from the U15 group to train as a Glasgow Chiefs squad for the following seasons Pathway at U16 level.
Coach education
Rugby Ready courses are run, throughout the season, depending on demand.
UKCC course are available and are run at various time throughout the year (usually weekends).
Key National Theme (KNTs) updates are offered to all mini/midi sections.
The themes are:
Ball presentation

Offload

Individual tackle technique and

Hand Catch
Teacher support: Touch Rugby courses are included in the in-service menu.
Referee development
Referee development courses are run locally by Glasgow District's Referee Development Officer, Martyn Hawthorn (tel: 07764430999).
Contact details:
Calum Taylor, Club Development Officer, Biggar RFC
Tel: 07720677977
Email: development.officer@biggarrfc.org.uk
Alan Falconer, Club Development Officer, Hamilton RFC
Tel: 07999676998
Email: bigalhamiltonrfc@hotmail.co.uk
Share this page
Club SL, South Lanarkshire Leisure and Culture's Club Accreditation Scheme, is aimed at developing and supporting local sports clubs and their volunteers.