Contact details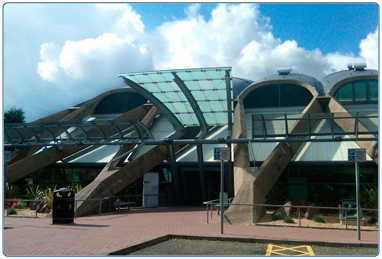 Dollan Aqua Centre
Brouster Hill
East Kilbride G74 1AF
Head of facility
Mark Wilson, Facility Manager
Tel: 01355 260000
Fax: 01355 588828
Email: DollanAquacentre@southlanarkshireleisure.co.uk
Car parking
Car parking charges apply Monday-Saturday 7.00am-5.00pm
General opening hours (full details listed below under specific areas)
Monday-Thursday* 7.00am-10.00pm
Friday* 7.00am-8.00pm
Saturday-Sunday** 8.00am-5.30pm
Swimming Pool
Monday-Thursday* 7.30am-9.30pm
Friday* 7.30am-8.00pm
Saturday-Sunday** 8.00am-4.00pm
*No public swimming between 4.15pm-6.00pm on a Monday, Tuesday and Thursday and between 3.45pm - 6.00pm on a Friday.
**Restricted public access on Saturday. Lane swimming only in three lanes between 8.00am-9.15am. At 9.15am the pool will close for 15 mins and reopen at 9.30am. Please note lane swimming sessions are for 12 years plus and accomplished swimmers only.
The gym
Monday-Thursday 7.00am-10.00pm
Friday 7.00am-8.00pm
Saturday-Sunday 8.00am-5.30pm
Health Suite
Monday-Thursday* 9.00am-9.30pm
Friday 9.00am-8.00pm
Saturday-Sunday 9.00am-4.00pm
*All sessions are mixed except Wednesdays which are restricted to ladies only until 6.00pm
Creche
Monday-Friday 10.00am-11.50am
Disabled Access
The Centre has disabled parking (6 spaces), automatic entrance doors, accessible reception, accessible changing area, accessible toilet, courtesy wheelchair, lift, pool hoist, Hearing Loop, Language Line and Typetalk. Assistance dogs are welcome.
Link to the Dollan Aqua Centre on Google Maps