Contact details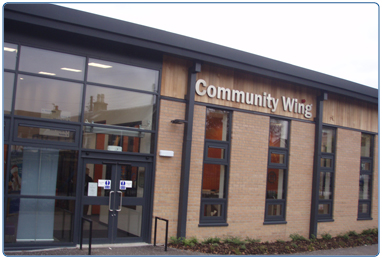 Blackwood and Kirkmuirhill Community Wing
Carlisle Road
Blackwood
ML11 9SB
Head of facility
Gillian Clark, Recreation Officer
Tel: 01555 896638
Fax:
Email: Blackwood/Kirkmuirhill@southlanarkshireleisure.co.uk
General opening hours
Monday 9.00am-9.00pm
Tuesday 9.00am-9.00pm
Wednesday 9.00am-9.00pm
Thursday 9.00am-9.00pm
Friday 9.00am-8.00pm
Saturday 9.00am-2.00pm
Sunday 11.30am-4.30pm
3G football pitch opening hours
Monday 5.00pm-9.00pm
Tuesday 5.00pm-9.00pm
Wednesday 5.00pm-9.00pm
Thursday 5.00pm-9.00pm
Friday 4.00pm-8.00pm
Saturday 9.00am-2.00pm
Sunday 12.00pm-4.00pm
Multi use games area
An enclosed ideal outdoor area available for tennis, basketball and 5-a-side is available for use.
Sports Hall
Blackwood has the use of a small sports hall. The markings in our hall cater for one badminton court and netball. The hall has a wooden sprung floor and a stage for use for an event or function, birthday party or a dance or martial arts class.
Dance Studio
A small area for use for fitness classes and other leisure activities like martial arts and dance classes.
Community Hall
This hall is ideal for parties, functions, meetings and events. The hall can also be used for clubs and groups. The hall can be split into two areas with a folding wall. In one half of the hall there is a small connecting kitchen for use, with a cooker and a microwave, ideal for events from offering coffee and biscuits to buffets.
Disabled access
The Community Wing has disabled parking (2 spaces), automatic entrance doors, accessible reception, accessible changing area, accessible toilet, Hearing Loop, Language Line and Typetalk. Assistance dogs are welcome.
Link to Blackwood and Kirkmuirhill Community Wing on Google Maps