Contact details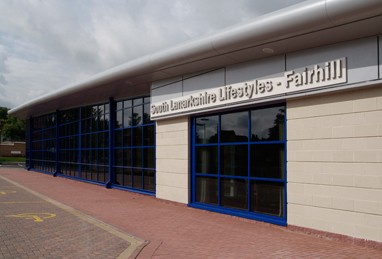 South Lanarkshire Lifestyles Fairhill
Neilsland Road
Hamilton
ML3 8HJ
Head of facility
Martin Cain, Recreation Officer
Tel: 01698 456350
Fax: 01698 456359
Email: fairhill@southlanarkshireleisure.co.uk
General Opening Hours
Monday-Friday 08:00am - 9:00pm
Saturday 09:00am - 5:00pm
The Club Gym
Opening Hours
Monday-Friday 09:00am - 9:00pm
Saturday 09:00am - 5:00pm
Library
Opening Hours
Mon 9:15am – 5:00pm
Tue 1:15pm – 8:00pm
Wed 2:00pm – 5:00pm
Thu 9:15am – 5:00pm
Fri 9:15am – 5:00pm
Sat 2:00pm – 5:00pm
Sun Closed
• Please note the ActiveIT suite opens 15 minutes after above opening times and closes 15 minutes prior to above closing times.
• ActiveIT facilities comprise 3 Chromeboxes and 8 PCs with office applications, mono printing, colour printing via Fairhill print email account, and 2 flatbed scanners.
Tel: 01698 456360
Email: fairhill@library.s-lanark.org.uk
Credit Union
Opening Hours
Monday – Friday 10:00am – 12:30pm and 1:00pm – 3:00pm
Saturday 10:00am – 11:30am
Tel: 01698 282200
Fax: 01698 284661
Email: hamiltoncreditunion@hotmail.co.uk
Starbucks Coffee Shop
Opening Hours
Monday – Thursday 09:15am – 3:15pm
Friday 09:15am – 2:45pm
Disabled access: Fairhill is designed with disability access in mind. The centre has disabled parking (8 spaces), automatic entrance doors, accessible reception, accessible changing area, Changing Places toilet, accessible toilet, courtesy wheelchair, Hearing Loop, Language Line and Typetalk. The gym equipment is also accessible for disability usage. There is a range of machines that can be used to improve your health and fitness. Assistance dogs are welcome.