Contact details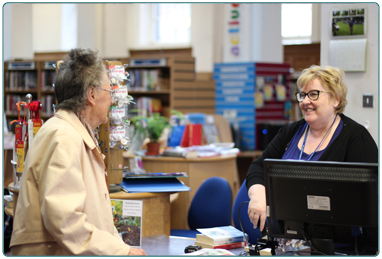 163 Main Street
Rutherglen
G73 2HB
Tel. 0141 643 1296
Email rutherglen@library.s-lanark.org.uk
Library opening hours
Monday 9:15am to 5:00pm
Tuesday 9:15am to 5:00pm
Wednesday 9:15am to 5:00pm
Thursday 9:15am to 8:00pm
Friday 9:15am to 5:00pm
Saturday 9:15am to 5:00pm
Sunday Closed
Active IT facilities
4 Chromeboxes and 10 PCs with office applications
12 PCs in IT Training Suite, which can be booked for group use
Colour printing
Flatbed scanner
The Active IT suite closes 15 minutes prior to the above closing times.
Additional facilities
Training room with facilities for a trainer and twelve trainees.
Disabled access
Refurbished building with good disabled access including lift access to upper and lower floors. Contact library for further details. Assistance dogs are welcome.
Reference and heritage
Wednesday 9:15am to 12:30pm and 1:30pm to 5:00pm
Thursday 9:15am to 1:00pm and 2:00pm to 5:00pm
Friday 10:00am to 1:00pm and 2:00pm to 5:00pm
To use the centre please book ahead: phone the heritage centre on 0141 643 1296 or email rutherglen.reference@library.s-lanark.org.uk. Some items can be viewed in the main library outwith these hours. Please contact Rutherglen Library if you are looking for information outwith these times.
The Rutherglen Heritage Centre holds information on the history of Rutherglen and Lanarkshire with old books, maps, newspapers and photos It also has a family history section containing the censuses and old parish records for Rutherglen and Cambuslang which can be viewed by microfilm.
As well as access to all online services, the Heritage Centre has free access to Ancestry.com. The Centre holds issues of the Rutherglen Reformer from 1945 - to present day; Cambuslang Advertiser from 1898-1950.
Location map
Share this page