Swimming pool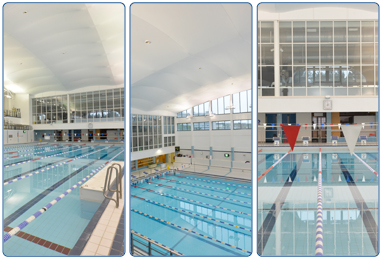 ---
The wet recreation facilities benefit from a 50 metre swimming pool with features such as a boom and a moveable floor at the deep end to increase its versatility enabling a full and varied programme of activities for all ages and abilities. The pool also has easy access steps and an oxford dipper pool hoist for customers who find traditional pool access difficult.
The changing and showering facilities contain family and baby change cubicles as well as disabled changing, showering and toilets that have hoist and tracking systems.
Some of the pool activities include:
Swimming Lessons (See Swimming Development Section)
Lane swimming 25m and 50m
Aquafit classes
Parent and child/ baby classes
Inflatable fun sessions (Saturday and Sunday)
Adults only sessions (Monday 8.00pm-9.30pm)
Life saving club sessions
Sub Aqua club sessions
EK Swimming club sessions
For child safety, please ensure you comply with our under 8's swimming policy when bringing young children to swim.
Group and private swimming lessons are also available offer to suit all abilities from pre school beginners to adults. For more information on these lessons, visit our Swimming Development section.
For more information about what is happening in Dollan Aqua Centre's pools and when, call 01355 260000.
For information on our membership packages, visit our Membership homepage.
Swimming timetable
To discover what this swimming pool has to offer you, visit the Pool timetable.