The Gym at South Lanarkshire Lifestyle – Eastfield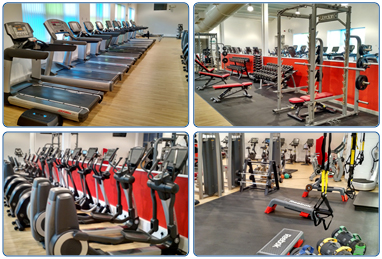 The Fitness Gym at Eastfield in the Cambuslang / Rutherglen area completed its most recent refurbishment on August 10th 2015. Our gym now incorporates a larger number of cardio machines, including treadmills, cross-trainers, bikes and rowers. We also provide upper body arm bikes and a greater variety of free weights. Our Power Plate provides whole body vibration technology to accelerate your training.
With two power racks for barbell work and four additional benches for dumbbell work we cater for all but the most extreme workouts. If you are new to resistance training, we aim to encourage, motivate and coach you through the steps to becoming confident in yourself. One of our driving visions is inclusivity and to make our free weights area as user friendly to newcomers as possible.
Our functional floor space covers approximately 28 square metres and incorporates a multi station TRX suspension training rig. Additionally our free floor space offers fixed barbells, kettlebells, power bags, plyo platforms and room for stretching. This space compliments our free weights area and allows more skill specific actions to be performed.
Our highly qualified and motivated staff are on hand to help you meet your goals. They offer a wide range of services included in your Perfect Fit.
The gym is available for customers aged 12 years and over. All under 16s must complete their Perfect Fit (five appointments) at any South Lanarkshire Leisure and Culture gym. Twelve and 13 year olds must be accompanied by an adult during times that the gym is unstaffed.
Share this page